The therapeutic use of books and stories (also known as Bibliotherapy) is one of the techniques I use to help children as a Recreational Therapist.
I provide services for children who in general are physically and verbally aggressive. Many of them lack self-esteem and social skills.
I'm always on the look-out for books and resources that could help these children to grow and develop.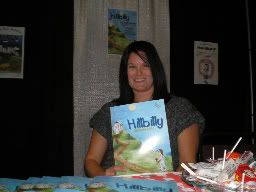 I met an interesting children's author (Catherine Sokol - picture above) who is the author of an amazingly fun book (Hillbilly) at the West Virginia Book Festival in Charleston, West Virginia.
I believe this wonderful children's book is more than a fun book. It is an awesome opportunity to teach children about stereotypes and how name-calling does hurt. Parents, teachers, and children's therapists could use this book to help their children to understand stereotypes.
Catherine has a degree in Elementary Education from Fairmont State (Fairmont, West Virginia). She also has a Master's degree in Psychology and is working towards a Ph.D. in Education.
Her husband is the illustrator for her book.
I admire how Catherine enjoys reading and writing and how she has created a fun picture book for children that focuses on an important issue: stereotypes.
You can get her book at her web-site here:
http://catherinesokol.com/Hillbilly.html
Also, if you've not done so already, be sure to check out my children's book that helps teach children Character Traits, including: patience, kindness, responsibility, acceptance, and more. It uses pictures of cute animals to teach these lessons. Here is an example. A dog that teaches about listening skills has a picture of his ear raised. The dogs that teach about acceptance are two dogs who are best friends despite their differences. Sam is an English Bulldog and her best friend Izzy is a Chihuahua.
Go here to get it: